The Jumpers Rebound Centre is the home of the Gillingham Jumpers, a trampoline club based in Kent, England.
The Jumpers established in 1978 have developed into the world's largest trampoline club with over 1700 people training each week.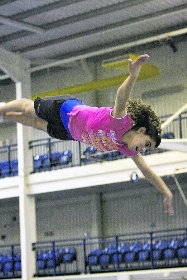 The club was founded in 1978 and has its own purpose built facility. The Jumpers caters for trampoline and gymnastics training in the disciplines of Trampoline, Men's & Women's Artistic, Floor & Vault, General Gymnastics (Boys & Girls), Acrobatics, Play Gym, Pre-School, Cheerleading and gymnastics for adults.
Jumpers are extremely proud that they were the first club in the UK to receive the coveted GymMark accreditation and set the standards for all other clubs to follow.
The club is constantly seeking volunteers to assist with coaching, fundraising or general helpers. This could be anything from Gardening to DIY, Computers to fundraising, basically whatever skills you have we can use them somewhere! If you are interested or currently a qualified coach looking to volunteer extra time, give Liz Laws a call on 01634 8555076
Mill Road, Gillingham, Kent.
Call: 01634 855507
Email:   info@trampoline.co.uk