Chum Kune Do is a Eurasian Martial Art, founded by Master Clifford Hyde-Gomes. Chum Kune Do is also known for awakening of knowledge. The fighting method is taken from the streets and was created by shizu Clifford for the 21st century.
Self-defence
No nonsense self-defence down to the grassroots. Jutsu, Aikido, Thai Boxing, Kalari, Kung Fu, Karate, Taekwondo all rolled into one. The result is just amazing. 4 students in a class only!
Price

: £200 for a 10 week course.

Schedule

: Day and time to be arranged.
Kick-boxercise & Keep Fit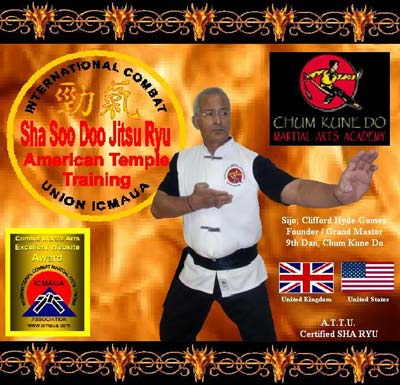 Kick-Boxercise & Fitness, is all about stamina, strength, speed & coordination of graceful movements that will tone up your muscle.
Price

: £5,00 per session if paid in advance for the month or £8,00 on the day.

Schedule

: Tuesday from 8:00pm till 9:00pm
Chum Kune Do
A powerful form of martial arts. Body conditioning, speed, power, coordination in Chum Kune Do you will learn everything in Martial arts
Schedule

: Tuesday from 7:00pm till 9:00pm.
Little ninjas (5 to 11 years old)
Teaching them respect, concentration, focusing, coordination attitude, fitness discipline, self-control, teamwork,self-defence and graceful movements of Kung Fu.
Price

: £25,00 per month, one session per week.

Schedule

: Thursday from 5:00pm till 6:00pm.
Ninja Warriors (Kickboxing)
The benefits are the same as the little ninjas with lots of sparing and for slightly older kids.
Price

: £25,00 per month, one session per week.

Schedule

: Wednesday from 6:00pm till 7:00pm.
The Howard School. Derwent Way, Rainham, Gillingham, Kent. ME8 OBX
Call:  01634 316 027
E-mail:  chumkunedo@aol.com